1949 Harmsworth Trophy
Detroit River, Detroit MI, July 23-August 1, 1949
---
Such Crust I, U.S. Craft, Captures First Heat in Harmsworth Trophy Race
Dan Arena Pilots Victor at Detroit
Sets Lap Mark of 94.94 Miles and Averages 87.96 with Schafer's Such Crust I
Miss Canada IV Trails
Challenger Third Behind the Skip-A-Long—Cantrell, in My Sweetie Forced Out
By Clarence E. Lovejoy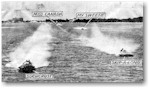 Such Crust taking lead from Skip-a-long after start . . .
The race hadn't reached the bridge before Such Crust took the lead. But My Sweetie took the lead from Such Crust on the backstretch and led the first lap. Counting the start, which Skip-a-long won, all three U.S. boats led the race at various stages with Miss Canada IV never in contention. Picture shows Miss Canada's poor start.
U.S. Boats One-Two-Three at Start of Harmsworth
Miss Canada IV, the challenger was not ever "in the picture," as the American team led one-two-three on the first lap in Friday's opening race in defense of the Harmsworth Trophy. At this stage, My Sweetie is leading, Skip-a-long is second and Such Crust, the ultimate winner is third.
Miss Canada IV, the challenger for the Harmsworth Trophy. Heralded as "the fastest boat built," it finished third.
Detroit, July 29 [1949]—Practically coasting down the home stretch to the finish line and winning as he pleased, Danny Arena, driving Jack Schafer's Such Crust I of Detroit tonight captured the first of the 42-nautical-mile heats of the British International regatta for the famous Harmsworth Trophy.
Canada's challenge today petered out disappointingly. Harold Wilson's feared and favored Miss Canada IV from Ingersoll, Ont., regarded by nearly everyone as the fastest craft, ran a slow race from the start and was at least ten miles behind Such Crust at the finish.
Wilson explained later, "we just couldn't 'rev up'." Mechanics will work most of tonight on the Rolls Royce Griffon motor, on lease from the British Government, for another meeting with the American team tomorrow.
Runner-up behind Arena but at least nine miles astern was R. Stanley Dollar's Skip-A-Long from San Francisco, which led the fleet on its power packed start. But after settling back in third position, Skip-A-Long was always threatening until the fourth lap when she shipped a good deal of river water in the rough wave troughs south of the Belle Isle Bridge.
The wetting all but drowned out Dollar's outfit and he lost twelve minutes before he and his mechanic, Ollie Meek, could start up again, lapped a circuit and one-half by the flying Such Crust I.
Out in Fourth Lap
Horace E. Dodge's My Sweetie also went out of action on the fourth lap with reported broken water line, although she had led the first lap and was close behind Such Crust until overheated by a broken water intake. Right up to race time there was mystery, secrecy and a hush-hush "act" in the Dodge camp about the driver for Miss Sweetie [sic].
Later it was explained that the millionaire sportsman flipped a coin at the last minute which gave the driving assignment to Wild Bill Cantrell, the Louisville business man who won the Gold Cup with Miss Sweetie [sic] earlier this month before Dodge purchased her from the former owners, Ed Schoenherr and Ed Gregory.
Today's course was roughened by an upstream wind meeting the downstream current and much of the dog-leg oval was choppy and mean. Nevertheless Arena coaxed 94.945 miles an hour out of Such Crust I on the second of the six seven-nautical-mile laps which means he was probably hitting 110 miles an hour on the long straightaways.
This is regarded by the regatta officials as setting a new Harmsworth lap record, previously held by the Englishman, Kaye Don at 93.017 since his 1931 challenge here. But as a matter of fact it isn't quite comparable because five mile laps were measured that year whereas this year they have been lengthened to seven.
Fastest on Third Tour
Such Crust was clocked at 94.103 m.p.h. in the slam-bang third lap, but when Arena saw Skip-A-Long stop and My Sweetie pull off the course on the fourth circuit he eased his throttle and his last three laps were down to speeds of 91.991, 86.435 and 85.78. Even so, his 42-mile average was a highly commendable 87.969 m.p.h. An elapsed time of 32 minutes 56 76/100 seconds.
Skip-A-Long's heat speed averaged 67.933 and Miss Canada IV 66.30 m.p.h. At the pits tonight a broken supercharger wire in the Dominion challenger was said to account for the slow speed at only 1,700 revs instead of the 2,800 expected. This can be repaired easily.
Arena, whose younger brother Gene was alongside as mechanic in Such Crust I, calls Oakland his home town and is one of several Californians who have been leading figures in speed boat racing for the last decade.
A Harmsworth Trophy regatta is decided when one national team wins two races. If another United States boat, but not Such Crust, wins the second race tomorrow a tow-lap run off will be held Monday to determine which individual craft, driver and sponsoring yacht club gets one year's possession of the trophy.
The summaries:
1. Such Crust I driven by Dan Arena: Time—32:56.76; Speed—87.969 m.p.h.
2. Skip-A-Long, driven by R. Stanley Dollar: Time—42:39.59; Speed—67.933 m.p.h.
Miss Canada IV driven by Harold Wilson: Time—43:42.61; Speed—66.30 m.p.h.
Miss Sweetie [sic] driven by Bill Cantrell, did not finish fourth lap.
(Reprinted from the New York Times, July 30, 1949)
---
Hydroplane History Home Page
This page was last revised Thursday, April 01, 2010 .
Your comments and suggestions are appreciated. Email us at wildturnip@gmail.com
© Leslie Field, 2002