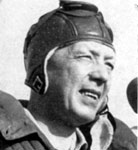 Stanley S. Sayres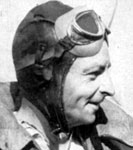 Anchor Jensen
Joe Shobert
Martin Headman
Elmer Leninschmidt
Howard Gidovlenko
Jack Harshman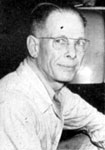 Wes Kiesling
Mike Welsch
The engines roar, the propellers whirl, the rooster tails fly. That's the Slo-mo-shuns of Seattle in action, the sight all Seattle turns out to see.
What makes all that? High-powered gasoline fired through marvelous engines to drive two superlatively designed hulls!
Yes, all that plus savvy, savvy provided by Stanley S. Sayres, their owner, who knows every bolt, screw and bit of oak and plywood in those remarkable boats, and the greatest aggregation of mechanics ever assembled in boating.
Stan Sayres just didn't happen into the boating game. He grew into it.
While he was still a comparative youngster in Pendleton, Ore., Stan Sayres began driving outboards on Lake McKay. The bug got him.
He moved to Seattle, bought Slo-mo-shun I in 1937. It was his good wife, Madeline, who came up with the now famous name, so incongruous, yet so catchy that, with the achievement of Slo-mo-shun IV in 1950, the whole world caught it and liked it.
Slo-mo-shun II was bought in 1941, a step forward in boat speed.
World War II put an end to that for a time, then in 1948 came Slo-mo-shun III, still another step ahead.
That fall the keel of Slo-mo-shun IV was laid, Ted Jones and Anchor Jensen -- Ted the designer, Anchor the builder -- having entered the picture. She was put in the water in October of '49. The next spring she began her trials that led to her 160.3438 miles an hour-the fastest a boat had ever run-then the Gold Cup and Harmsworth victories in Detroit.
With Slo-mo-shun IV in the water, three great mechanics who have never been away from the Slo-mos since joined up. They are top Boeing mechanic Joe Schobert, who heads the Slo-mo V crew; L. N. (Mike) Welsch, another top Boeing man, who bosses "the Old Lady," Slo-mo-shun IV, and Elmer Leninschmidt, with Sunde & d'Evers Co., an expert wherever you want to put him in a boat.
Ted Jones, the now-famous designer, his reputation made with the great boats, left the group after the 1951 Gold Cup here, going into the Kiekhaefer Corporation team in boat and outboard engine work.
Even before Jones left, however, Martin Headman, one of Western Gear's top men, joined up, the gear boxes Western has built so well his particular job.
Jack Harshman, another Boeing engineer, became interested, devised ways of proving engine speeds as to acceleration, figured in other refinements on the two boats.
Came, too, Al Johnson, General Petroleum's top fuel man, a volunteer in the cause and a valuable one.
Wes Kiesling, from the Sayres' automobile organization, a fine mechanic; Harold Wortman, an expert in his line of machining to whom drive shafts are a particular chore, accepted spots on the team.
Filling in with those good men is Bob Swanson, Anchor Jensen's right-hand man in Jensen Motor Boat Company.
Now comes another addition to the family, a positive genius on engines, a former aviator and airplane racing pilot, a man who lives and loves engines, Howard Gidovlenko, a Los Angeles man who is as crazy over the Slo-mo-shuns as any of the rest, a man to whom 18 hours at a stretch means nothing if at the end one of his beloved engines is performing as it should.
Add now the two drivers, Lou Fageol, Kent, Ohio, sportsman, truck and bus builder, who popped into the driver's seat in 1950 to pilot Slo-mo-shun IV to her Harmsworth victory after Ted Jones had driven her to her Gold Cup win, then been hurt in a practice spin, and Paul Sawyer, Rochester, N. Y., sportsman and lawyer, the limited class star who came this year.
There is mechanical savvy and racing savvy of the very top caliber.
Stan Sayres has yet to talk about the Slo-mo-shuns without including the team, or the family, as he is more apt to put it.
Men who know speedboat racing will tell you that no more thorough nor more brilliant team was ever put together.
Their feat in removing a propeller from Slo-mo V which had had engine trouble, putting it on Slo-mo IV which had lost hers and sending "The Old Lady" out in time to win the second and third heats of the 1952 Gold Cup, is proof enough.
August 9, 1953, could be a bad day. Luck plays an important part in racing of speedboats, but you can rest assured they have left nothing undone that could be done.
(Reprinted from the 1953 Gold Cup Regatta - Seafair Regatta Official Magazine, pp.19, 32)